Love ghost – è uscito l'ep "Tales of a Sad Boy"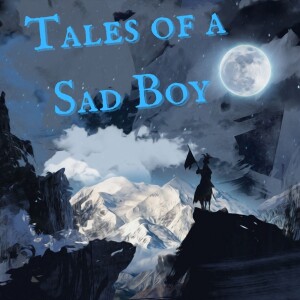 "Tales of a Sad Boy" è un ep di 4 canzoni prodotto da Mike Summers. E' una collaborazione con il rapper emo di New York dal nome Big Boss Mulaa. Rappresenta la terza release dei Love Ghost con la label Cleopatra Records.
1- Heartless: un dipinto sonoro della solitudine. Una foschia emo/alt rock e hip hop che libera le paure e i dubbi che sorgono dal trauma relazionale. Guarda il video: https://www.youtube.com/watch?v=i6PxjyxfJIQ
2- Lethargic: questa canzone cattura ciò che si prova ad assimilare al meglio in questa fase attuale della vita. Guarda il video:
https://youtu.be/SPLIWH-66CI
3- Samurai: la canzone contiene un sottotono di tradimento. Si tratta di diventare un guerriero per combattere le battaglie nella tua mente. Guarda il video: https://youtu.be/Mwg21W7–KQ
4- Train Tracks: questa canzone è una storia personale di intenso trauma e profonda empatia. Guarda il video: https://youtu.be/IY1fOX34Ue8
"Tales of a Sad Boy" su Spotify:
https://open.spotify.com/album/2nLNaNERF12jqdaUX73FeQ
"Tales of a Sad Boy" segue una serie di uscite singole per Love Ghost elogiate da Rolling Stone, American Songwriter, FLAUNT, Alternative Press e altri.
I Love Ghost hanno recentemente girato l'Europa, dove hanno suonato al Rockpalast in Germania. Ad agosto hanno suonato in Città del Messico suonando con Adan Cruz sia all'Auditorio BB che al Gamergy Festival di Amazon che è stato trasmesso in tutta l'America Latina. Hanno fatto canzoni con artisti di tutto il mondo tra cui Rico Nasty, Adan Cruz, Teeam Revolver, Geassassin, Mabiland e Tankurt Manas.
Love Ghost è composta da Finnegan Bell (voce solista, paroliere, chitarra), Daniel Alcala (chitarra, ingegnere cori), Cory Batchler (tastiere, basso, cori) e Daniel Gallardo (batteria, voce).
Web links:
Website: https://www.loveghost.com
Instagram: https://www.instagram.com/loveghost_official
Facebook: https://www.facebook.com/loveghost.official
Spotify: https://open.spotify.com/artist/7oYWWttOyiltgT19mfoUWi
Youtube: https://www.youtube.com/channel/UCMNUK51hO36Tog1DRoAJ0-g